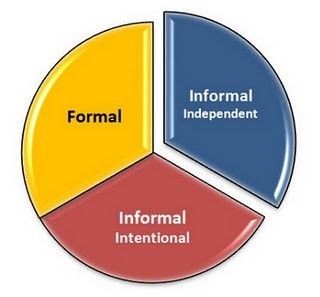 Definition of formal, non-formal and informal learning
•   Formal learningtakes place in education and training institutions, leading to recognised diplomas and qualifications.
•   Non-formallearning takes place alongside the mainstream systems of education and training and does not typically lead to formalised certificates. Non-formal learning may be provided in the workplace and through the activities of civil society organisations and groups (such as in youth organisations, trades unions and political parties). lt can also be provided through organisations or services that have been set up to complement formal systems (such as arts, music and sports classes or private tutoring to prepare for examinations).
•   Informal learningis a natural accompaniment to everyday life. Unlike formal and non­-formal learning, informal learning is not necessarily intentional learning, and so may well not be recognised even by individuals themselves as contributing to their knowledge and skills.
Until now, formal learning has dominated policy thinking, shaping the ways in which education and training are provided and colouring people's understandings of what counts as learning. The continuum of lifelong learning brings non-formal and informal learning more fully into the picture. Non-formal learning, by definition, stands outside schools, colleges, training centres and universities. lt is not usually seen as 'real' learning, and nor do its outcomes have much currency value on the labour market. Non-formal learning is therefore typically undervalued.
But informal learning is likely to be missed out of the picture altogether, although it is the oldest form of learning and remains the mainstay of early childhood learning. The fact that microcomputer technology has established itself in homes before it has done so in schools underlines the importance of informal learning. Informal contexts provide an enormous learning reservoir and could be an important source of innovation for teaching and learning methods.